Remains Available to Patients Suffering Back, Neck, and Joint Pain
Telemedicine: Talk to Our Physician Online
KEEPING YOU SAFE DURING COVID
Introducing our Updated
Health & Safety Standards
Distanced lobby seating
Patients are immediately taken to the exam room to minimize time in the waiting room.
Dilligent sterilization
Environmental cleaning and sanitary precautions are taking place around the clock throughout all of our Pain Clinics.
PPE Mandatory for patients
Face masks, hand sanitizer and gloves are mandatory during your visit.
The safety and health of our patients remains our top priority at Bay State Pain Associates. We're taking the Coronavirus (COVID-19) pandemic seriously.
Learn our enhanced telehealth options and the preventative measures we're taking to protect our patients, teammates and communities.
Our physician is available via telemedicine visits so you can continue to get the care you need during this difficult time.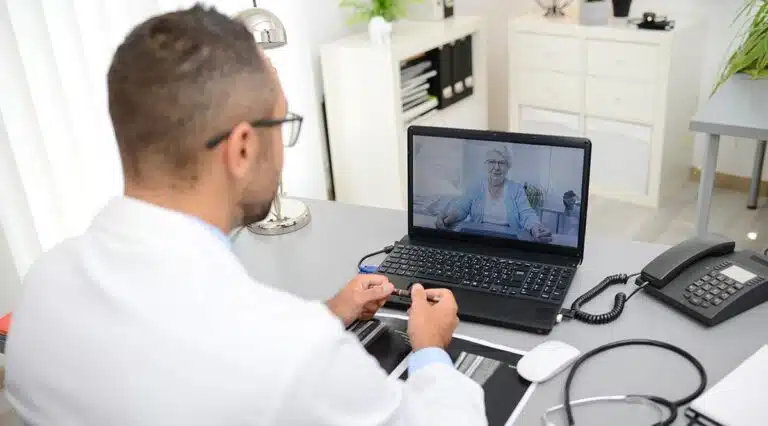 Bay State Pain Associates remains open during our normal business hours of Monday through Thursday, 8 AM – 3 PM. We're continuing to accept new patients, with the option to have visits conducted via phone or a video chat. These appointments will be available for initial consultations, follow-ups, imaging reviews, and other outpatient appointments.
Patients will not need to have any special technology for a phone appointment; the patient can call in for their appointment on either a smartphone or a landline phone.
Effective Online Virtual Care
Our pain physician is available to provide exceptional medical care through virtual online visits. Our program gives patients face to face, real-time access to a physician who can help them with a variety of pain-related conditions, including: 
New or chronic pain either from injury or overuse (see our conditions treated page here).
First-time appointments for those with pain needs 
Follow-up appointments to continue treatment plans    
People looking for alternatives to surgery or for a less invasive solution 
What to Expect When Re-Scheduling Your Appointment
Are you scheduled for a procedure soon? Or thinking about resuming your treatment when you're able? Here are some of the guidelines we've put in place to help assure the safety of our patients:
We will ask if you have any symptoms on the phone prior to your appointment AND at check in.
Please come in by yourself, if possible, and kindly ask any accompanying guests to wait in the car.
In the unlikely event that the waiting room is at maximum capacity for safe distancing when you check-in, we will ask you to wait in your vehicle and then text or call you when it's time for your appointment.
Our team will be wearing masks. If you have a mask, please consider wearing it as well.
We will ask you to sanitize your hands prior to being taken back to the patient care
1. What to Expect of Your Virtual Doctor Visit?
Virtual online visits are very similar to a typical office visit. However, the physical office is replaced with telecommunication technology in the form of a video call. It's a simple 3-step process: 
Your online doctor appointment is scheduled directly with Bay State Pain Associates physician's office. You'll then receive confirmation of your appointment with a link to your virtual doctor's office. Make sure you mark your calendar!  

You'll be directed to complete a self-exam and patient history form which you'll submit through a secure web portal. Your doctor will review the information with you in greater detail during your appointment.  

In the day and time of your appointment, you'll be greeted by either a medical assistant or staff member and then meet with your doctor. Since screens are two-way you can share and discuss diagnosis, imaging, medication, treatment options, and more.   
2. Is it Covered by Insurance?
Insurance now covers these types of virtual doctor exams during the crisis. Once you are connected with your Bay State Pain Associates physician's office you can discuss your specific insurance coverage.
3. What Do I Need?
There is no special equipment required; you just need:  
A home computer, tablet, or smart phone   

An internet connection  

Patient medical history and exam paperwork submitted via a Bay State Pain Associates Telehealth website
4. How Do I Schedule a Telemedicine Appointment?
It's easy! Simply call our clinic at (508) 4362555. We look forward to hearing from you and helping you continue your journey to better health.
5. We're Taking Extra Precautions for In-Person Visits
Some appointments and treatments will require a visit to our clinic. In these cases, SpineOne will be screening all patients that come to our clinic to check for symptoms of COVID-19. Patient health screenings will occur on the phone (prior to their arrival), during pre-admission testing phone call, and again at check-in.
Our teammates will respect your space and will warmly greet you without a handshake. We will allow for adequate space between our teammates and customers (3-6 feet) during in-person interactions. Patients and family members are asked to sanitize their hands prior to being taken back to a patient care area.
Our teammates are dedicated to hand washing between personal interactions and as many times as possible throughout the day. We encourage our patients to join us with frequent hand washing and the use of hand sanitizers.
6. What Should I Do if I've Been Exposed to Coronavirus?
If you have a visit scheduled and are having symptoms (fever, cough, fatigue, difficulty breathing) or have had recent contact with someone exhibiting symptoms, we ask you to stay home and reschedule your appointment with us for another time. Consult your primary physician for advice on getting care for your symptoms
If you would like to reschedule your appointment, or inquire about telehealth options, call our schedulers at (508)436-2555. The most updated information on telehealth visits at Bay State Pain Associates and our other measures for patient safety during the COVID-19 outbreak will be made available on this page.