Pain Treatment | Procedures
Knee, Shoulder, and Hip Joint Injections
At Bay State Pain Management, Our Experienced Pain Management Doctors Offer Joint Injection Treatments for Patients in West Bridgewater & Norfolk, MA, and All Surrounding Areas.  Call or request an appointment online with our expert pain specialist at Bay State Pain Associates.
Injection techniques are helpful for diagnosis and therapy in a wide variety of musculoskeletal conditions. Diagnostic indications include the aspiration of fluid for analysis and the assessment of pain relief and increased range of motion as a diagnostic tool.
Knee, Hip, shoulder, Wrist, Elbow, and other joints injection using cortisone, Hyaluronidase, PRP and Stem Cells. 
Indications
The indications for joint or soft tissue aspiration and injection fall into two categories: diagnostic and therapeutic. A common diagnostic indication for placing a needle in a joint is the aspiration of synovial fluid for evaluation. Synovial fluid evaluation can differentiate among various joint disease etiologies including infection, inflammation, and trauma. A second diagnostic indication involves the injection of a local anesthetic to confirm the presumptive diagnosis through symptom relief of the affected body part.
Therapeutic indications for joint or soft tissue aspiration and injection include decreased mobility and pain, and the injection of medication as a therapeutic adjunct to other forms of treatment. 
Therapeutic injection with corticosteroids should always be viewed as adjuvant therapy.
The types of joint injections available to patients include: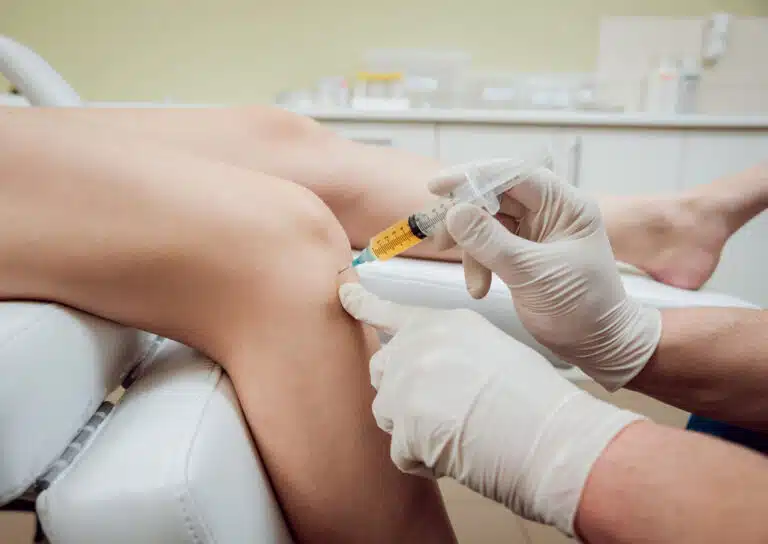 Platelet-rich plasma injections Platelet-rich-plasma injections, also known as PRP injections, use the patient's own blood to stimulate and encourage the body's natural healing process of the cartilage and tissues within the joints.
Corticosteroid injections – Corticosteroid injections use a combination of steroid medication and anesthetics to reduce inflammation in order to decrease pain.
Hyaluronic acid injections – Hyaluronic acid injections are typically used in the knee. These injections are used when corticosteroid injections does not work. By injecting additional hyaluronic acid into the knee, doctors aim to create more lubrication in the joint, helping it to function properly.
Placental tissue matrix (PTM) injections Placental tissue matrix injections, also called PTM injections, use placental tissue collected after a healthy birth. Mothers have the option to donate their placenta after giving birth to a child. Placental tissue helps promote healing because it contains stem cells.
Why Joint Injections Are Performed?
Joint injections are used to treat pain in the hip, knee, and shoulder related to:
Stress from poor mechanics
Osteoarthritis
Injury
Tendonitis
Degenerative arthritis
Joint injections are used to determine the cause of the individual's pain. For example, if an anesthetic solution is injected into the hip joint and the patient experiences pain relief in the leg, this may indicate that the hip is the source of pain.
What to Expect During a Joint Injection Procedure?
A joint injection procedure can run between 30 minutes to one hour to complete, including recovery and observation time. Joint injections are typically guided using x-ray imaging. Before starting the procedure, the patient will be given a medication via an IV to help them relax. The patient then lies down on an x-ray table and the pain specialist rubs a topical anesthetic on the skin over the area where the injection will be given.
Benefits of Joint Injections
Pain injections for the joints provide minimal soothing of pain when surgery is not an option. Some injections, like placental injections and platelet-rich plasma injections, are free of steroids thus providing additional benefits and they also contain naturally occurring substances (such as blood platelets and stem cells) to help reduce inflammation.
Post Joint Injection Treatment
Patients can go home the same day after a joint injection treatment and can return to normal activities a day after the procedure. Some people may take up to a week or two before they can experience pain relief
Dr. Algendy and friendly medical staff at Bay State Pain Management Associates have helped many patients overcome pain symptoms caused by a wide range of chronic issues.
No matter what the underlying cause of your pain is, the experienced professionals at Bay State Pain Management can appropriately diagnose and treat your condition in an office that is designed to be efficient and welcoming. We strive to reduce wait times by contacting insurance companies daily in order to obtain pre-approval, so we can get you started on an effective treatment plan as quickly as possible.
Call us today to schedule an appointment.