Osteoarthritis (OA), Degenerative Joint Disease
Osteoarthritis (OA), commonly called "wear and tear" arthritis.
Arthritis is a general term used when there is inflammation within the joints. Osteoarthritis, specifically, causes a breakdown of joint cartilage. It is the most common form of arthritis and can occur in any joint. The joints most affect include the knees, hips, and spine. However, it can also create damage in the neck, fingers, and thumbs. It usually occurs when a joint experiences excessive stress or previous injury. Underlying cartilage disorders can also trigger the condition.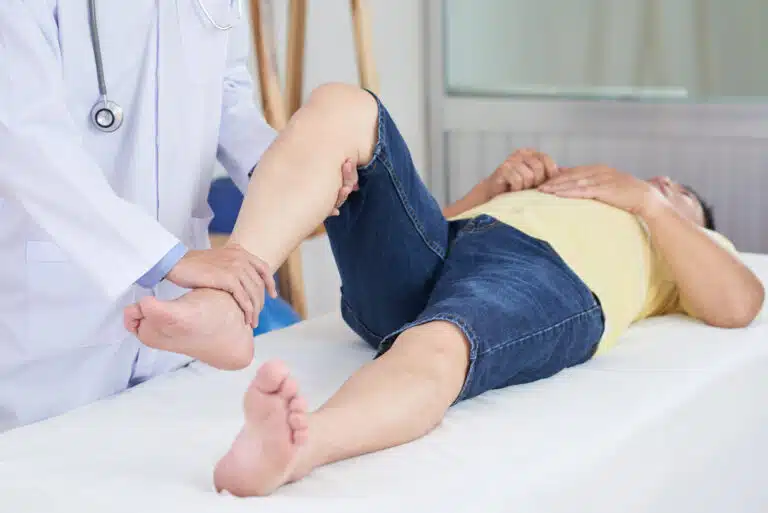 What are the four stages of osteoarthritis?
The four stages of osteoarthritis are:
Stage 1 – Minor. Minor wear-and-tear in the joints. Little to no pain in the affected area.
Stage 2 – Mild. More noticeable bone spurs. 
Stage 3 – Moderate. Cartilage in the affected area begins to erode. 
Stage 4 – Severe. The patient is in a lot of pain.
What causes bone degeneration in the spine?
Degenerative spine conditions involve the gradual loss of normal structure and function of the spine over time. They are usually caused by aging, but may also be the result of tumors, infections or arthritis. Pressure on the spinal cord and nerve roots caused by degeneration can be caused by: Slipped or herniated discs.
Is degeneration the same as arthritis?
Yes. The phrase "degenerative changes" in the spine refers to osteoarthritis of the spine. Osteoarthritis is the most common form of arthritis. Doctors may also refer to it as degenerative arthritis or degenerative joint disease.
How Do Weight and Exercise Impact Osteoarthritis?
Losing weight if you are overweight or obese helps prevent osteoarthritis of the knees, reduces the stress on weight-bearing joints, and helps reduce pain in affected joints.
Exercise is important to improve joint movement and to strengthen the muscles that surround the joints. Gentle, low-impact exercises, such as swimming or walking on flat surfaces, are recommended, because they are less stressful on your joints. High-impact activity, such as jogging or high-impact aerobics, may increase joint pain. Strength training is also encouraged, particularly for muscles surrounding and supporting affected joints.
How do you stop bone degeneration?
Can you prevent OA?
Keep a healthy body weight. Extra weight puts stress on your joints. …
Control your blood sugar. High blood sugar levels raise your risk of getting OA. …
Be active every day. Exercise is a good way to prevent joint problems. …
Prevent injury to your joints. …
Pay attention to pain.
How painful is degenerative joint disease?
Osteoarthritis is a degenerative disease that worsens over time, often resulting in chronic pain. Joint pain and stiffness can become severe enough to make daily tasks difficult. Depression and sleep disturbances can result from the pain and disability of osteoarthritis.
What is end stage degenerative joint disease?
End-stage arthritis is the progressive wearing down of the cartilage that is present between the bones of a joint causing the bones to come in contact with each other and painfully rub against each other during movement of the joint. This results in severe pain with loss of movement and function.
Are bananas good for arthritis?
Bananas: This humble fruit can be very helpful for those dealing with arthritis. A banana is a powerhouse of potassium that plays an important role in reducing sodium retention and the calcification process of bones which accelerate bone loss. Bananas can help alleviate cartilage damage of the joints.
What fruit is good for arthritis?
Berries pack a double dose of anti-inflammatory properties. All fruits are high in antioxidants, which can help fight inflammation. Additionally, foods like blueberries, raspberries, strawberries and blackberries contain anthocyanins, which reduce inflammation.
What foods should be avoided if you have osteoarthritis?
5 Foods to Avoid
Red meat and fried foods. Fried foods and red meat contain high levels of advanced glycation end products (AGEs), which are known for stimulating inflammation. …
Sugars. …
Dairy. …
Refined carbohydrates. …
Alcohol and tobacco.
For those looking for treatment of their lower back pain, then Dr. Algendy at Bay State Pain Associates is here to help. Please call (508) 4362555 to schedule an appointment or consultation.