Do you have stiff knee and it starts acting up or your arthritis stiffens in cold weather, What is the therapy you think about ? Fortunately, Platelet-Rich Plasma (PRP) Therapy might help.
Platelet-rich plasma (PRP) is a natural substance created from your own blood that contains a high concentration of the healing properties found in your blood. 
PRP therapy is one of the  cutting-edge pain management approaches  today. It has significantly enhanced the healing process for most musculoskeletal injuries and other soft tissue damages.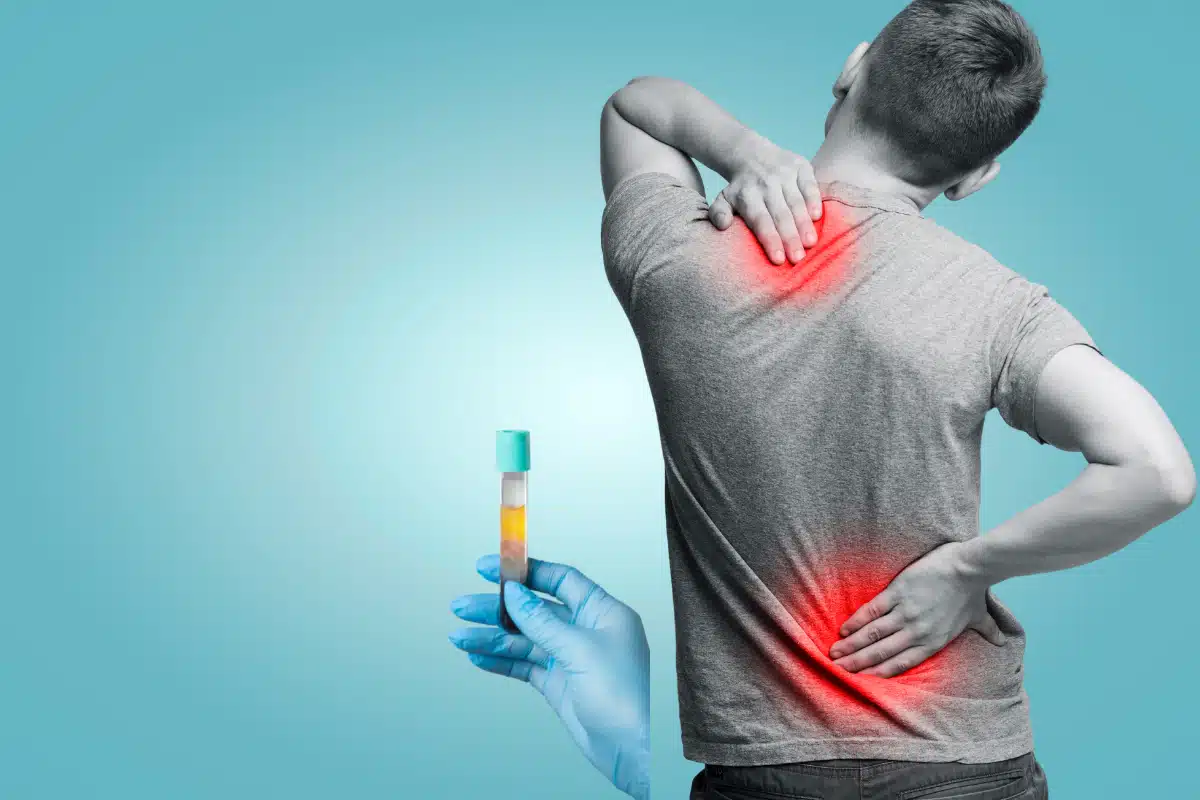 Here are benefits of PRP therapy:
1 HELPS HEAL SEVERAL CASES OF SPINE INJURIES
PRP therapy provides relief to those who are suffering from  trauma and other spine-related injuries. Spine injuries may affect joints, tendons, ligaments, muscles and other soft tissues of the body.  
Muscle injuries happen when the force against the muscle is so great that  the tissue begins to tear. Ligaments, on the other hand,  take time and are difficult to heal.  
This makes  PRP therapy an appealing option  to help athletes in their healing process from sports injuries. This approach aims to  restore the functionality and mobility of the injured joint or muscle.
2 PROVIDES SYMPTOMATIC RELIEF FOR KNEE OSTEOARTHRITIS
One of the most common findings in osteoarthritis is the  severe reduction of hyaluronic acid. Hyaluronic acid is responsible for  lubricating and cushioning  the joints to keep them working smoothly.
Osteoarthritis patients who are suffering from severe knee pain can greatly benefit from PRP therapy. PRP therapy helps  restore hyaluronic acid concentration in the knees  due to  synovial fibroblast and hepatocyte growth factors  in the platelet substance. Thus,  reversing joint damage and eliminating disease progression.
3 EFFECTIVELY HEALS AND REDUCES INFLAMMATION
The human anatomy is a complex structure.  It may take time to heal  when a muscle, joint, ligament or any part of the body is injured. In most cases, depending on the severity of the injury,  healing may take months or years even.
PRP therapy is an advanced technique that provides a  fast, safe and effective healing process. This pain management approach also effectively  reduces inflammation and swelling.
4 SIMPLE AND MINIMALLY INVASIVE INTERVENTION
The PRP therapy procedure starts with  collecting blood samples from the patient. The blood is then processed for concentration. The aim is to produce a substance that contains the needed  ingredients and growth factors specific for the patient's injury or condition.
The derived substance is then injected into the affected area. This procedure can also  reduce the need for surgery.
5 POSES LASTING RELIEF FOR LOW BACK PAIN
in the  2015 report published in Epoch Times, PRP therapy was found to help  chronic back pain,  which is very difficult to treat. PRP therapy can help reduce back pain by  improving structural elements such as ligaments, discs, and joints.
These are just 5 of the many benefits of PRP therapy. This treatment can help boost the healing process of a  wide variety of musculoskeletal pain and injuries  by using natural protein and "growth factors" found in the platelet.
6 Reduced reliance on medications
Some pain-relieving medications are harmful to your health, especially when used over long periods of time. And some can even be addictive and put you at risk for long-term health consequences.
PRP therapy can provide significant pain relief so that you don't have to rely on medications. Treatment can also benefit those who still have pain even while taking certain pain relievers.
7 Suitable for All Skin Types
If you are looking for a safe, effective treatment for skin rejuvenation, certain skin types often can't undergo certain treatments. PRP therapy is suitable for all skin types.
What Conditions Can PRP Therapy Treat?
PRP therapy may be used to treat a range of musculoskeletal injuries, including:
Arthritis

Common sports injuries

Sciatica

Fractures

Chronic tendonitis

Acute muscle and ligament injuries

Hip, shoulder, and knee pain