30-Day Anti-Inflammatory Meal Plan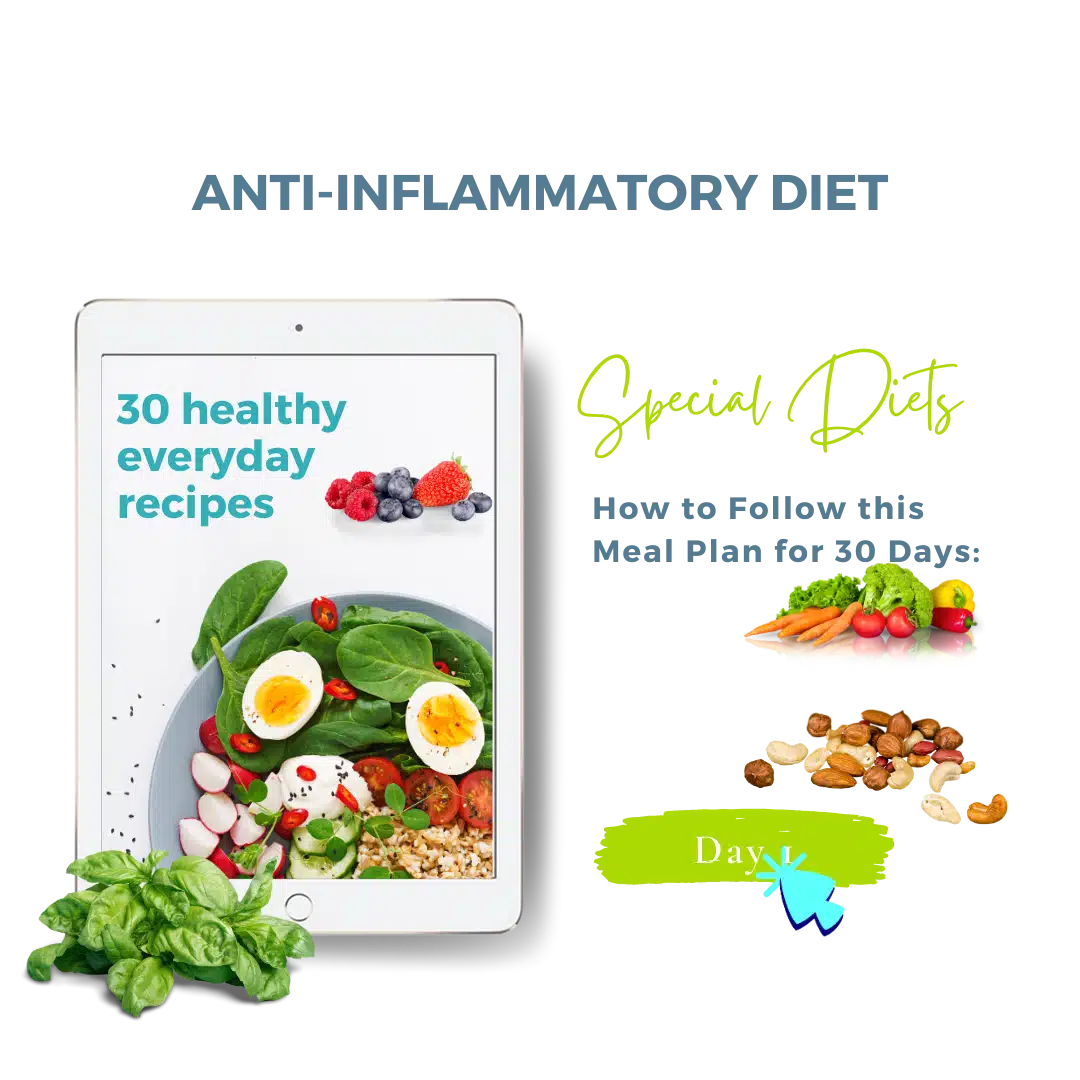 Clean Your Body with Anti inflammatory Diet
"Detoxes" and "Cleanses" remove toxins from your body, lose weight, or promote health. It can be mixed with the anti-inflammatory diet. It contains plenty of prebiotics, fiber, antioxidants, and omega-3s. This means a diet rich in vegetables, whole fruit, whole grains, legumes, and fatty fish.
30-Day Anti-Inflammatory Meal Q&A
What are the 5 classic signs of inflammation?
Based on visual observation, the ancients characterised inflammation by five cardinal signs, namely redness (rubor), swelling (tumour), heat (calor; only applicable to the body' extremities), pain (dolor) and loss of function (functio laesa).
How do I rid my body of inflammation?
Inflammation (swelling), which is part of the body's natural healing system, helps fight injury and infection.
…
Follow these six tips for reducing inflammation in your body:
Load up on anti-inflammatory foods. …
Cut back or eliminate inflammatory foods. …
Control blood sugar. …
Make time to exercise. …
Lose weight. …
Manage stress.
Clean up your diet.
Foods shown to reduce inflammation and living a healthy lifestyle play a role in reducing inflammation. A 30-day Diet plan, containing meals and snacks consisting of natural anti-inflammatory foods to help your body.
What is the best diet for anti-inflammatory?
An anti-inflammatory diet should include these foods:
tomatoes.
olive oil.
green leafy vegetables, such as spinach, kale, and collards.
nuts like almonds and walnuts.
fatty fish like salmon, mackerel, tuna, and sardines.
fruits such as strawberries, blueberries, cherries, and oranges.
What is the fastest way to get rid of inflammation in the body?
Simple rules of thumb for anti-inflammatory eating:
Eat more plants. Whole plant foods have the anti-inflammatory nutrients that your body needs. …
Focus on antioxidants. They help prevent, delay or repair some types of cell and tissue damage. …
Get your Omega-3s. …
Eat less red meat. …
Cut the processed stuff.
30-Day Anti-Inflammatory Meal Plan
Do You Want to Know How:
Start with meal-prep tips at the start of each week. You can make swaps. If a recipe calls for peanut butter but you have almond butter in the pantry, feel free to make that swap. The same goes for milk—use your milk of choice.
Feel free to change around the meals for on specific days based on what you prefer or have in the house. We choose an array of meal options to show some different choices that fit within the anti-inflammatory diet, but if you're someone who finds it easier to have the same breakfast for an entire week, then feel free! In our meal plans, we aim to have a similar calorie range for each meal which means that you can swap recipes for each meal without changing the calorie levels drastically.
And last but not least, don't feel like you have to follow this meal plan or a full 30 days in order to get the anti-inflammatory effects. Use it as healthy eating inspiration and do what feels good to you—whether it's one meal or one week!
Nuts
If you pair nuts with hot milk then that would become a  wholesome combination because dairy products are also very fulfilling. 
You can also add nuts to yogurt.  
Almond butter and peanut butter will give you energy as well as leave you feeling full for a longer time.
Eggs
You can make a heavy vegetable omelette and pair it up with brown bread. 
You can also make scrambled eggs and put them on a brown bread, which is already coated with peanut butter or almond butter. 
You can store hard boiled eggs for the week and then mix them with a salad.
Oatmeal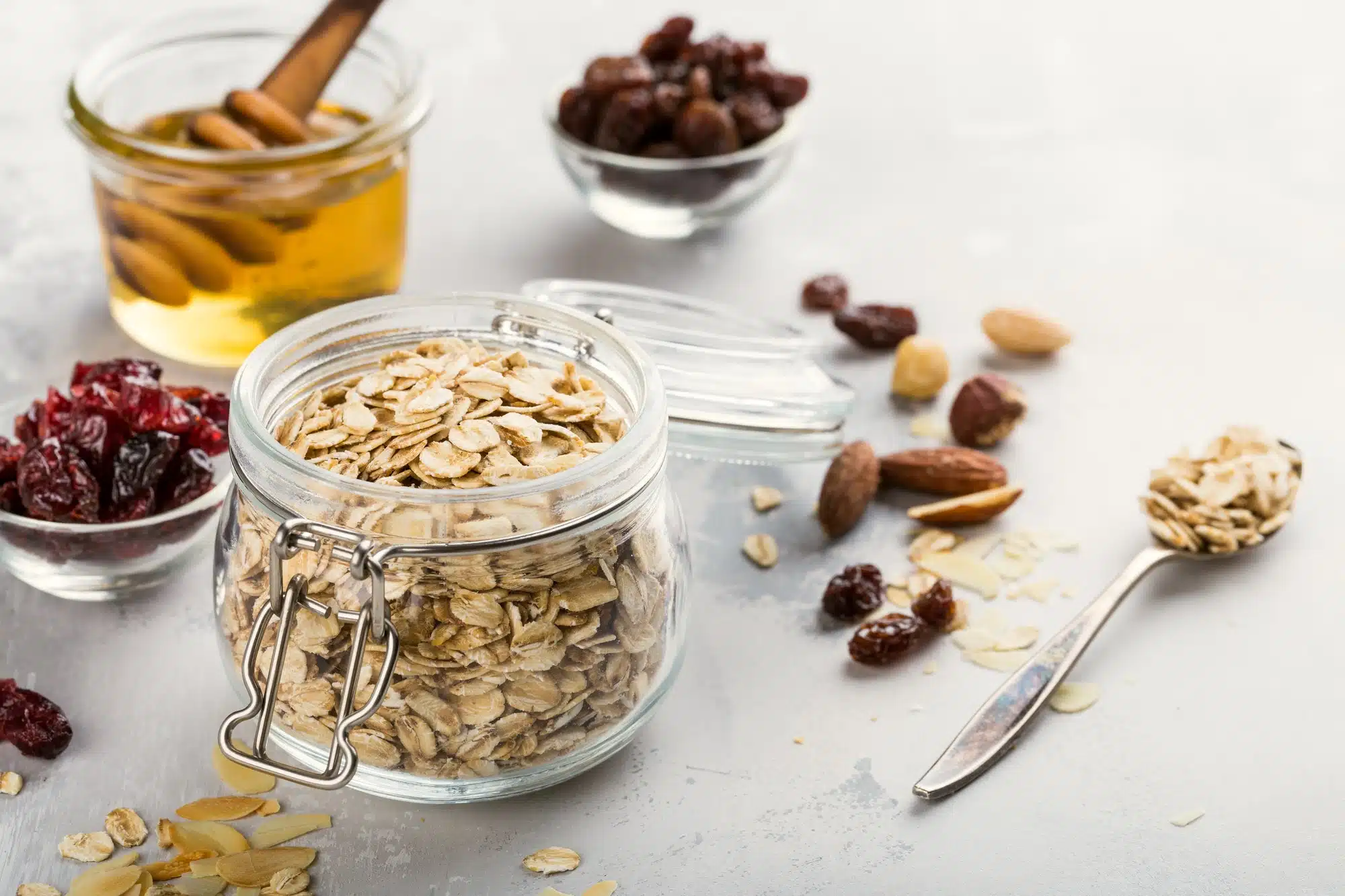 You can make an oatmeal smoothie which includes bananas and milk. This will make it tastier and flavor some. You can also choose to add nuts. Customize the dish in such a way that it tastes delicious and is fulfilling.
How to Meal-Prep Your Week of Meals:
Day 1
Breakfast (310 calories)
A.M. Snack (206 calories)
Lunch (360 calories)
P.M. Snack (194 calories)
Dinner (422 calories)
Day 2
Breakfast (310 calories)
A.M. Snack (164 calories)
Lunch (437 calories)
P.M. Snack (95 calories)
Dinner (519 calories)
Day 3
Breakfast (361 calories)
A.M. Snack (140 calories)
Lunch (400 calories)
P.M. Snack (164 calories)
Dinner (428 calories)
Day 4
Breakfast (361 calories)
A.M. Snack (30 calories)
Lunch (400 calories)
P.M. Snack (164 calories)
Dinner (523 calories)
Day 5
Breakfast (361 calories)
A.M. Snack (140 calories)
Lunch (400 calories)
P.M. Snack (164 calories)
Dinner (415 calories)
Day 6
Breakfast (310 calories)
A.M. Snack (140 calories)
Lunch (417 calories)
P.M. Snack (139 calories)
Dinner (471 calories)
Day 7
Breakfast (310 calories)
A.M. Snack (206 calories)
Lunch (417 calories)
P.M. Snack (130 calories)
Dinner (429 calories)
Day 8
Breakfast (296 calories)
A.M. Snack (305 calories)
Lunch (325 calories)
P.M. Snack (131 calories)
Dinner (447 calories)
Day 9
Breakfast (360 calories)
A.M. Snack (95 calories)
Lunch (393 calories)
P.M. Snack (206 calories)
Dinner (434 calories)
Day 10
Breakfast (360 calories)
A.M. Snack (140 calories)
Lunch (393 calories)
P.M. Snack (131 calories)
Dinner (492 calories)
Day 11
Breakfast (360 calories)
A.M. Snack (131 calories)
Lunch (393 calories)
P.M. Snack (206 calories)
Dinner (402 calories)
Day 12
Breakfast (290 calories)
A.M. Snack (131 calories)
Lunch (393 calories)
P.M. Snack (225 calories)
Dinner (466 calories)
Day 13
Breakfast (290 calories)
A.M. Snack (166 calories)
Lunch (360 calories)
P.M. Snack (206 calories)
Dinner (481 calories)
Day 14
Breakfast (296 calories)
A.M. Snack (186 calories)
Lunch (360 calories)
P.M. Snack (216 calories)
Dinner (421 calories)
WEEK 3
How to Meal-Prep Your Week of Meals:
Day 15
Breakfast (290 calories)
A.M. Snack (131 calories)
Lunch (387 calories)
P.M. Snack (206 calories)
Dinner (473 calories)
Day 16
Breakfast (291 calories)
A.M. Snack (164 calories)
Lunch (337 calories)
P.M. Snack (187 calories)
Dinner (498 calories)
Day 17
Breakfast (291 calories)
A.M. Snack (187 calories)
Lunch (337 calories)
P.M. Snack (206 calories)
Dinner (498 calories)
Day 18
Breakfast (291 calories)
A.M. Snack (131 calories)
Lunch (337 calories)
P.M. Snack (164 calories)
Dinner (599 calories)
Day 19
Breakfast (291 calories)
A.M. Snack (305 calories)
Lunch (337 calories)
P.M. Snack (164 calories)
Dinner (402 calories)
Day 20
Breakfast (291 calories)
A.M. Snack (228 calories)
Lunch (351 calories)
P.M. Snack (131 calories)
Dinner (504 calories)
Day 21
Breakfast (290 calories)
A.M. Snack (262 calories)
Lunch (351 calories)
P.M. Snack (95 calories)
Dinner (482)
How to Meal-Prep Your Week of Meals:
Day 22
Breakfast (296 calories)
A.M. Snack (182 calories)
Lunch (387 calories)
P.M. Snack (139 calories)
Dinner (480 calories)
Day 23
Breakfast (339 calories)
A.M. Snack (260 calories)
Lunch (381 calories)
P.M. Snack (95 calories)
Dinner (434 calories)
Day 24
Breakfast (339 calories)
A.M. Snack (62 calories)
Lunch (381 calories)
P.M. Snack (206 calories)
Dinner (519 calories)
Day 25
Breakfast (339 calories)
A.M. Snack (95 calories)
Lunch (381 calories)
P.M. Snack (131 calories)
Dinner (555 Calories)
Day 26
Breakfast (310 calories)
A.M. Snack (164 calories)
Lunch (381 calories)
P.M. Snack (131 calories)
Dinner (495 calories)
Day 27
Breakfast (310 calories)
A.M. Snack (206 calories)
Lunch (323 calories)
P.M. Snack (221 calories)
Dinner (429 calories)
Day 28
Breakfast (296 calories)
A.M. Snack (206 calories)
Lunch (323 calories)
P.M. Snack (236 calories)
Dinner (414 calories)
Day 29
Breakfast (310 calories)
A.M. Snack (206 calories)
Lunch (373 calories)
P.M. Snack (221 calories)
Dinner (402 calories)
Day 30
Breakfast (310 calories)
A.M. Snack (206 calories)
Lunch (373)
P.M. Snack (95 calories)
Dinner (504 calories)