Thanksgiving !!! We are Grateful !!!
Thanksgiving is here, reminding us to reflect on the things that matter most in life.
At Bay State Pain Associates, we have many things to be thankful for, and I cannot think of a better time to list just a few of the things for which we are truly grateful.
First and foremost, we are thankful for our patients…..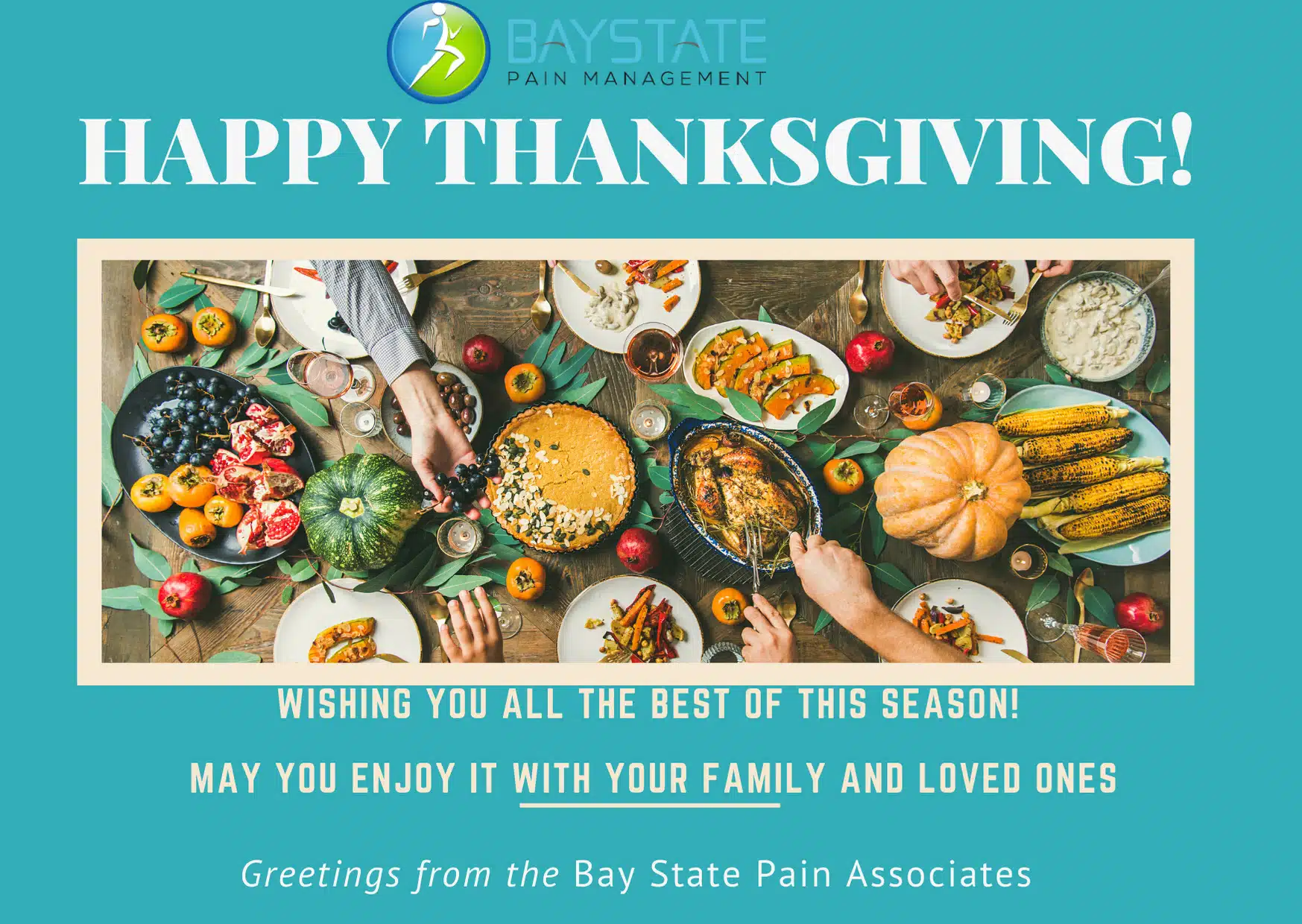 Happy Thanksgiving, We Are Grateful
First and foremost, we are thankful for our patients. The entire Bay State Pain Associates team is grateful for the ability to make a positive impact in the lives of so many people. When you ask members of the team why they enjoy working at Bay State Pain Associates, the answer is always the meaningful interactions we have with patients and caregivers. We're grateful to be able to help. We're also grateful for the trust that our patients have in us to always advocate on their behalf. This is a responsibility that we don't take lightly and it is the heart and soul of what we do.
We're thankful for our teammates who show tireless dedication and compassion day in and day out. At Bay State Pain Associates, we tend to call ourselves a "family," and the bond that holds us all together is our love for our patients. We lean on each other for support and always know we can count on each other's expertise and guidance.
Happy Thanksgiving, We Are Grateful
Last but not least, our team is grateful for the new developments in the Pain Management specialty. Our team is looking forward to expanding our offerings into the Stem Cell therapy and PRP, where we will be able to bring our level of expert, hands-on care to a larger number of patients.
I hope this time of year also has you reflecting on all of the gifts in your life. From all of us at Bay State Pain Associates, THANK YOU and we hope that you have a wonderful Thanksgiving with family and friends!
Pain Management Specialist
Dr Algendy has 28 years of experience in Pain Management and is board certified in Anesthesiology and in Pain Medicine.
Dr. Algendy had his residency in Anesthesia and Pain management at University of Miami Jackson Memorial Medical Center.
He had his fellowship training at , New York Prespyterian Hospital, Cornell University, Colombia University, Memorial Sloan-Kettering Cancer Center, and the Hospital for Special Surgery in New York.
His special interests include: Minimally invasive spine techniques, Spinal cord stimulation treatment, Percutaneous disc decompression, endoscopic diskectomy for bulging disc disease. 
Dr. Algendy has extensive experience in: 
Spine injections,
Radiofrequency ablation,
Kyphoplasty for vertebral compression fractures.
Spinal cord stimulation for intractable back 
Occipital neuromodulation for certain types of headaches and migraine.
Botox injection for migraine headaches.
PRP 
Stem Cell Therapy.